St. Ives
Cum sociis natoque penatibus et magnis dis parturient montes, nascetur ridiculus mus. In magna justo, vulputate non venenatis sit amet, suscipit at mi. Mauris ut massa id sem auctor ultrices. Proin bibendum ornare mattis. Aenean dignissim semper laoreet. Ut ut viverra odio, sit amet blandit diam. Integer eleifend mauris eget leo convallis vulputate.
Services
Strategy
User Experience
Technology
Media & Content
Communication
Content & Media: UGC
To engage their most devoted subset of customers, St. Ives hosted a UGC photo contest in which fans could win a trip to Hawaii through their participation. The goal here wasn't to receive millions of submissions; it was to engage digitally savvy fans who understood—and wanted to replicate—the brand's dreamy, tropical projection.
We chose Tumblr as the platform for the contest because it offered all of our must-haves: a photo submission tool, a judging process and a built-in community of engaged users. But our main challenge was navigating around rigid brand guidelines and platform constraints to truly make the contest hub feel like paradise.
By using inspiring, full-screen photography, we were able to set the brand-right tone for user submissions—and then display those submissions beautifully. With Tumblr's embedded sharing functionality, the experience quickly went viral, prompting over 10,000 submissions in just three weeks.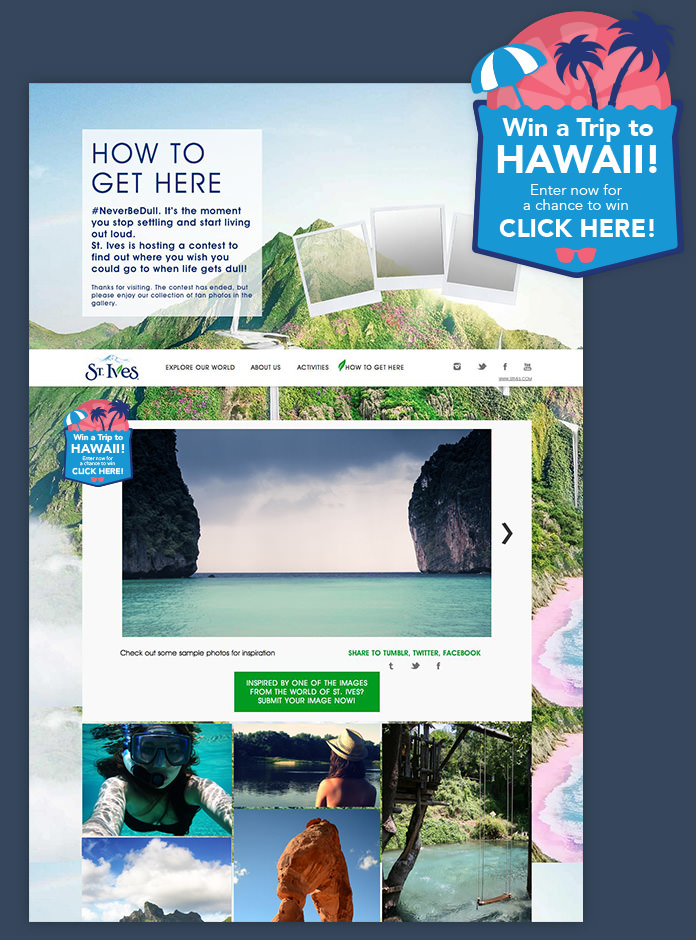 Content & Media: Facebook
To drive raw engagement, we partnered with St. Ives to create more digital content for their Facebook fans. We wanted to tap into the wild popularity of quizzes, and the brand's line of facial scrubs was the perfect vehicle for that. The result was the "What's Your St. Ives #ScrubLove?" experience, housed on a custom tab of their Facebook page.
By giving fans a chance to indulge their desire to learn about themselves, we also got to educate them on their ideal St. Ives products. We built the experience so everything was shareable—from the quiz itself down to each editorialized result, which we designed out like trading cards.
Art direction was the key to this piece. Through a vibrant color palette and set of custom icons showcasing the line's natural ingredients, we stayed within the constraints of the platform while showcasing the fresh, modern vibe of the new product line.
The popularity of the quiz broke the 3rd party vendor we employed for tracking—a pretty cool measure of success for us, but a bit of a bummer for them.